Airbnb started out as a modest home sharing platform. Now it has become a lucrative business model attracting an array of tech, marketing and management services.
In this article we look at the most useful tools and services available in the Airbnb industry. This resource for Airbnb entrepreneurs looks into the best management agencies and tech businesses around. These businesses are essential to unlocking success in a lucrative short let market.
Are you an Airbnb start-up looking for inspiration? We've included top tips from market leading Airbnb companies who've been through the the start-up process. Likewise if you already have a an Airbnb venture, we've included knowledge from other business owners on how to grow / scale your portfolio.
Use the links in the table below to uncover Airbnb services that will take your venture to the next level:
| Company Name | Service / Tool Type |
| --- | --- |
| AirDNA | Marketing Data & Analytics Tool |
| Guesty | Property Management Software |
| SmartHost | Airbnb Management Company |
| Airsimple | Airbnb Management Company |
| HelloGuest | Airbnb Management Company |
What AirDNA Can Do For You...
AirDNA turns industry-savvy, short-term rental data into strategic, actionable analytics, empowering Airbnb hosts for success. Optimize your listings, find lucrative properties, and outperform the competition with AirDNA. Data to set you apart. Insights to keep you ahead.
AirDNA's AI-powered algorithms have revolutionized the vacation rental industry by deciphering true revenue potential and market demand based on booked, and not blocked, reservations. They have subsequently augmented this information with data partnerships and channel managers that see several hundred thousand reservations. CBRE has compared their algorithm output with Airbnb's official announcements and has found it to be extremely close – to within a 5% margin of error across the board.
Having integrated HomeAway/Vrbo properties into their suite of products and dashboards in March 2019, AirDNA now collects data on all 10 million properties listed on Airbnb and HomeAway/Vrbo worldwide. The AirDNA matching algorithm is able to match Airbnb and HomeAway/Vrbo properties and de-duplicate listings to avoid a reservation made on both platforms from being counted twice.
Enterprise solutions start from $299.95 per month.
Subscription to MarketMinder costs $9.95 – $99.95 per month, depending on the size of your market.
MarketMinder grants you to gain valuable insights on Airbnb and HomeAway/Vrbo rental properties. Subscribers can use interactive maps to explore specific neighborhoods as well as individual vacation rental properties. The tool helps our clients understand short-term rental trends and allows them to investigate over 25 KPIs including ADR, Occupancy, Revenue, etc. Cost ranges from $19.95 to $99.95 per month, depending on the city.
Enterprise Solutions allows you to access the granular, exportable Airbnb and HomeAway/Vrbo data that powers AirDNA's suite of products. Dig deeper into historical trends, future supply and demand, and traveler origin reports to identify the impacts and opportunities of vacation rentals in your area.   
AirDNA is the world's leading provider of Airbnb and HomeAway/Vrbo data. By tracking the daily performance of all 10+ million listings worldwide, AirDNA offers unmatched insights and actionable analytics into the growth, revenue, and seasonal demand of vacation rentals.
With offices based in Denver, CO and Barcelona, Spain, AirDNA's data reports, analytics and intel is used by vacation rental hosts and managers to optimize their listings, price competitively, expand their vacation rental portfolio and benchmark property performance against the market.
Long considered to be an industry expert in vacation rentals, CEO and founder Scott Shatford is a vocal short-term rental advocate. Scott has spoken at dozens of conferences including and has been cited as a leading authority on the global impacts and opportunities created by vacation rentals for countless podcasts, blogs and publications including Nightline, Forbes, WIRED, The Guardian and The New York Times.
AirDNA's Top Tips For Airbnb Start-ups:
Ensure you thoroughly understand the short-term rental regulation in your area.
Build your brand by offering unique experiences to guests that they could not get at a hotel. Don't forget the little details: a welcome gift or handwritten card, an offer for a local restaurant, a homemade guide to the local area.
Every manager should live in their first property for at least 3 days before they start renting it to guests, to make sure that the place really offers everything that a guest would need for their stay. Does it have an umbrella for a rainy day, or shoe polish for that important meeting?
Don't scrimp on photography, but don't exaggerate in your photos. Make sure that the first photo on the property profile sums up the whole mood and ambiance of your rental. Similarly, what is featured in your photos is what guests will expect when they arrive. If there is a bunch of fresh flowers on the kitchen table in your photo, make sure you can fulfil that expectation for every guest, or you will leave them disappointed.
Make a conscious effort to get to know your neighbors, and inform them of your rental business. Provide them with your contact details so they can get in touch with you directly in the case of any issues or concerns with guests. It will make both your neighbors and guests feel more comfortable, particularly if your listing is in a multi-family building.
How to Grow / Scale Your Airbnb Portfolio?
Know your market. Do your research to work out the best place to launch and grow, your vacation rental business. Be aware that some markets are very seasonal – check the AirDNA Seasonality metric in MarketMinder.
Drill down to explore and compare neighborhoods. Identify the areas and property types that are achieving the highest occupancy rates or average monthly revenue.
Benchmark your listings against comparable properties and competitors' listings with the AirDNA My Properties tool. Check what amenities are "required" in your market, and which are rare – these will set you apart in your market.
Always adjust your pricing according to future supply and demand data. As a general rule, if you are consistently 100% occupied, you are leaving money on the table!
List on multiple channels to get maximum exposure: properties listed on both Airbnb and HomeAway/Vrbo typically perform better.
What Guesty Can Do For You...
Guesty's end-to-end solution simplifies every aspect of clients' short-term rental businesses in order to help them grow. Clients who use Guesty report a 150% increase in annual revenue, a 100% increase in listings annually and an average of 50+ hours saved weekly on their daily operations. Running a short-term rental business is hard. Guesty makes it easy.
Guesty is one of the only end-to-end property management platforms on the market, offering 13 features which aim to address every need of the modern short-term property manager. Beyond this, Guesty boasts a robust integrations marketplace, where we join forces with industry-leading third-party vendors that share our goal of making property management easier – from dynamic pricing solutions to noise monitoring tech to keyless entry systems.
Pricing starts at 3% per booking on listings managed with Guesty.
Guesty offers a wide range of features, which include: channel manager, multi-calendar, unified inbox, automation tools, mobile management app, branded booking website, task management, reporting tools, owners portal, payment processing, analytics, open API, 24/7 guest communication services, and an expanding integrations marketplace.
Founded in 2013 by twin brothers Amiad and Koby Soto, Guesty was originally called Superhost and was in fact not a PMS at all, but a property management company. Between coordinating cleanings, communicating with guests, arranging check-ins and check-outs and many other tasks, Amiad and Koby quickly saw that placing listings on Airbnb required them to work around the clock.
It didn't take long for them to realize that their strength was not in dustpans and laundry detergent – it was in software.
The brothers then started building technological solutions that were superior to the competitive landscape in order to streamline the complex operations for themselves as professional property managers.
After seeing a notable improvement, they understood they had stumbled onto something big, and decided to completely shift the business model.The brothers didn't want to be property managers – they wanted to help property managers thrive.  
Enter the launch of Guesty – an end-to-end solution that simplifies every aspect of short-term rental management.
The company graduated from Y Combinator in 2014, the same prestigious incubator that Airbnb graduated from and today has $60M in funding with 5 office locations worldwide and customers in 70+ countries across the globe.
Guesty's Top Tips For Airbnb Start-ups:
It can often seem like getting into the Airbnb game is simply a matter of having properties available for rent, but if you really want to succeed, then there's more to it. Guest centricity and building a recognizable brand in a sea of competing online travel platforms are vital in getting your business off the ground. Put your guests first and stay with them through every step of the process – inquiry, booking, check-in, check-out and even long after if you want to foster customer loyalty. It's not enough to bring guests. You need to keep them coming back. And hopefully, they'll tell their friends too!
How to Grow / Scale Your Airbnb Portfolio?
Property management is a full-time gig and property managers can get bogged down by the tedious, repetitive tasks required. The key to growth and scaling your portfolio, is to drastically reduce as many aspects of your daily operations as possible and the most effective way to streamline your business is to automate it. When it comes to aspects like pricing, guest communication, staff tasks and more, you'll be amazed at just how much time you can free up with automation, leaving you able to focus on what really matters: growing your business.​
What SmartHost Can Do For You...
SmartHost take the hassle out of the short-letting process and give our clients the opportunity to free up their time and dedicate it to the things that matter. Their goal is to increase rental profit by at least 40% compared to how the property would perform on long-term rent, aiming at 85% occupancy rate.
They are very flexible and always look up to the expectations of the client. The standard service pack, outlined above, might be extended depending on the client's preferences. Additional services (e.g. setting up and paying bills for the property, collecting and delivering mail, providing extra touches for guests and many more) are available.
What Makes SmartHost Different to Other Management Services?
They are a boutique agency – high staff-to-property ratio – every property receives as much care as possible.
In-house teams of professionals for design, cleaning and maintenance.
No upfront fees, no hidden fees.
They support AirbnbPlus.
Speed of the process – the listing will be active within 72 hours from contract signing.
Flexibility! Each contract can be tailored to meet exact needs of the client.
Personal account management.
Free toiletries for guests.
Rated 5* on TrustPilot and Google Reviews.
Option for personal check-in (meet & greet service).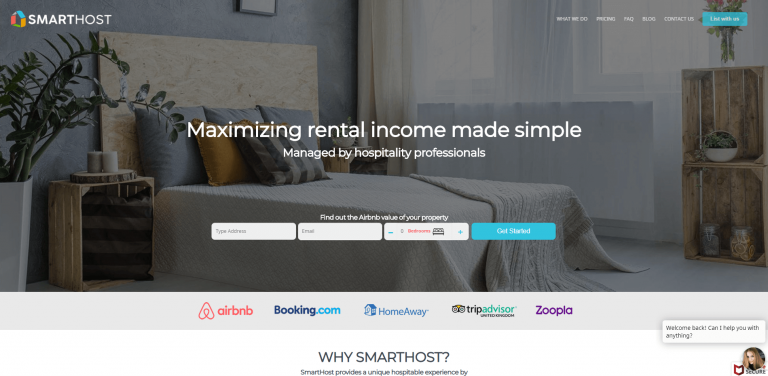 SmartHost charge from 12% to 18% depending on the customizable terms of the contract
Professional Photography – Our in-house design team will make sure that the property looks its most attractive for the guests in photos.
Listing creation & price management – With the help of our dynamic pricing tools and algorithms we closely monitor property's performance and constantly adjust the nightly rates. Our team of experts takes into consideration each platform's service fees, search engine, operating system and other nuances.
Guest screening and 24/7 communication – Guest screening will be based on the requirements set by the client. Also no guests will be left unattended – our support team will be in constant contact with them.
Toiletries & linen delivery – Hotel-quality linen, towels and toiletries will be provided for each guest.
Cleaning arrangement and post-stay check up – In-house-trained cleaning team will look after the place as if it's their own.
Essential maintenance – The maintenance and design team will collaborate to make sure that the property always conforms to the requirements of short-letting platforms.
Complete transparency and support – You will have access to personal dashboard, where they can see prices, earnings and available dates. Also, your dedicated manager will be available for any kind of query.
SmartHost's Top Tips For Airbnb Start-ups:
Be flexible and know what goal is in front of your client – whether they are profit oriented or want to do short-letting because they love to travel and what to give back to the community – always provide services tailored to them.
How to Grow / Scale Your Airbnb Portfolio?
Invest in people that work with you – make sure they understand, support and fully get behind your brand message and approach – team building is the key.
Have dedicated teams to every task – whether it is operations, sales or any other department – when people understand their responsibilities and enjoy doing them, that's when they strive and bring extra effort into overcoming challenges.
See What Airsimple Have To Offer...
Airsimple is a serviced accommodation management service that looks after short-term rental properties.
Are you looking for an Airbnb management company outside of London? Then you're in luck with Airsimple as they are well established in: Manchester, Birmingham, Coventry, Sheffield, Leamington Spa, Solihull, Leicester, Rugby, Warwick, and Stratford Upon Avon.
They have an team of experienced sales, customer service management, marketing, interior design and photography staff.
From checking in to clocking out, they manage the entire process on your behalf.
Airsimple will help you generate a regular stream of tenants with effective property management that brings out the best in your property.
Fully Managed from 15% + VAT or take the guaranteed rent option with no agency fee's and rent paid from day 1.
Serviced Accommodation Listing Creation
Photography
Cleaning of Property
Replenishment of Necessities
High Quality Bed Linen Provided
Guest Vetting
Account Management
Guest Communication
Property Maintenance
Interior Design
See What HelloGuest Have To Offer...
They cover all London, all UK and selected locations abroad.
Premium short let full management service operating over 5 years.
High level of guest satisfaction achieved over 93% of all reviews are 4 or 5 stars.
Dedicated account management and in-house team to deliver higher quality.
Multi-channel booking site management to maximise occupancy and returns.
Very fast response rate guaranteed to handle guest communication through our customer service team.
Flexible and personalised approach to meet specific property needs and client requirements.
In person meet and greet 
In-house cleaning team
Integrated rental management offering short, medium and long let services to maximise returns.
What Makes HelloGuest Different to Other Management Services?
HelloGuest are one of the few companies that manage most of their team in house to deliver a higher quality of service as well as offer a multi-channel approach to advertise the property.
They also offer an integrated solution for landlords where they can let and manage the property on a short, medium and long let basis.
HelloGuest's fees also represent the quality of the services that they provide and they do believe in quality and not quantity as they screen all owners (not all property owners are accepted).
Check in is always handled by the HelloGuest team, their staff will welcome guests and help them with luggage. They also provide a guide with all the info about the flat (WiFi, heating, appliances, etc.).
Another area where HelloGuest differentiate is they have a specific team for managing the pricing and calendar and both are checked and updated every week in order to achieve the best occupancy rate. Other agencies rely solely on pricing systems which have limitations.
Most Importantly they have an extremely high guest satisfaction rate with 93% of all the guest reviews being 4 & 5 stars.
 Management fee is from 12% all inclusive, fee depends on location of the property.
– Optimised Yield & Pricing management.
– Dedicated manager.
– In-house housekeeping & cleaning service.
– Luxury freshly pressed linen and towels supplied.
– Personal meet & greet for guests.
– Guest communication.
– Booking & Calendar management.
– Property maintenance support.
Toby and Veronica started HelloGuest 5 years ago because they both loved the idea of staying in a home instead of a hotel and we quickly understood how much hard work there is behind a guest staying at your place. There is a lot to take care of! Veronica has a financial back ground and Toby has a marketing background so together they developed the idea of offering a full management services for busy owners. They have grown and developed the business and learned a lot along the way on how to provide a great service.