How to Remove Blood Stains From Sheets?
Blood stains on bedding and sheets are not a nice situation, but they are more common than you may think. Considering that the average UK resident will do 13,000 laundry loads in their lifetime, there is a high chance that many of these require targeted stain removal.
With blood on bedding being common due to nosebleeds, open wounds, or even an unexpected period, the best way to deal with the issue is to know how to treat the stain.
Love2Laundry is an app that picks up laundry, treats it and returns it in perfect condition. With not even a blood stain causing our service levels to drop, this article is ideal if you want to know our secrets. Keep reading to learn how to remove blood stains, old and new, from sheets and other bedding.
Is It Possible To Remove Blood Stains For All Bedding?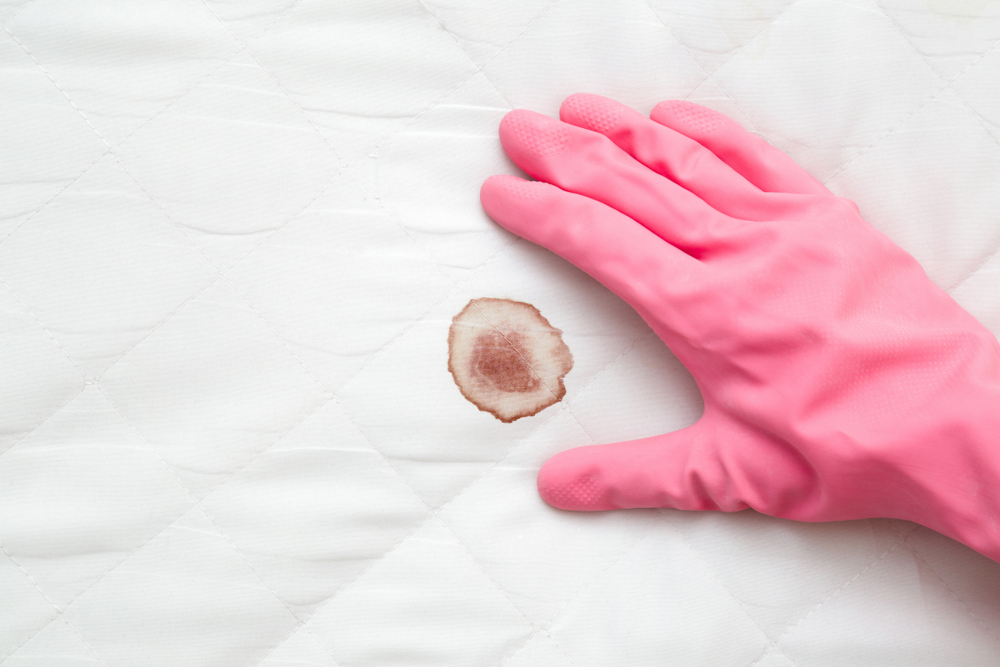 Before we start sharing our hints and tips, you likely want to know initially how successful removing blood from bed sheets can be. We are happy to report that even though blood is the second toughest stain to remove from laundry items, a complete clean is possible.
Using the hacks we share in this article, your blood-stained bedding will quickly be restored to its former glory.
Ways to Remove Blood From Sheets At Home
Now, let's get into why you have clicked on this article: how can you remove blood from bedding? Whether you are a laundry beginner or a washing pro, these methods can be carried out by anyone. We will break down the options into at-home solutions and expert assistance as they are the two methods you have available.
Remove Fresh Blood From Sheets
Dealing with fresh blood can be somewhat more accessible as it has not had time to embed in the fabric's fibres. Acting quickly can make the issue quicker and simpler to resolve. The steps you should follow in this situation are as follows:
Step 1 – Soak the stain in cold water – Leave the bedding to soak in cold water for up to 30 minutes. If blood is on a mattress, leave cold water to soak on the stain. Try soaking in the bathtub for other items like duvets or thick comforters.
The purpose of this is to lift the stain as much as possible.
Step 2 – Use a sponge or cloth to dab the affected area – This should be done using either soap or another form of laundry detergent using a light hand. Dabbing and circular motions are ideal as they encourage the stain to lift and not become rubbed in.
Step 3 – Pre-treat the bedding before washing – This is only suitable for doing after you have checked the label care instructions; a pre-treatment is ideal for removing the remaining stain.
Step 4 – Wash and dry once the stain has been removed – A normal wash can occur when all of the blood has been removed. It's important to ensure the stain is completely gone; otherwise, washing and drying could effectively set it into place.
Remove Dried Blood From Sheets
Dried blood is more challenging to eliminate as it has been given time to set into the material. The slightly amended steps to follow for at-home removal are as follows:
Step 1 – Soak the stain in cold water mixed with laundry detergent- Like fresh blood, dried blood should be left to soak. The differences are that it will need to be left for longer, and an additional cleaning product should be used to break down the matter.
You will need to keep the item soaking for as long as the stain shows that it needs. Also, some scrubbing and rubbing are okay to add during this time as long as the item is still soaked in the water. Please note you may need to swap out the water for a fresh concoction to ensure that the blood doesn't start to stain other areas.
Step 2 – Rinse the item completely – When the sheet shows removal has succeeded, it should be entirely rinsed before being washed with a normal cycle. This stops any excessive build-up of cleaning products from causing other issues.
Step 3 – Wash and dry once the stain has been removed – When the stain has been removed, just like the fresh blood, a wash and dry can take place. Should the mark remain, you can repeat the first two steps or use something a bit tougher, such as soda or white vinegar bicarbonate.
Why Is It Good To Use Professional Laundry Services For Removing Blood From Bedding Sheets?
As we have covered, you can attempt to remove blood stains from sheets at home. However, factors such as material type and age of the stain can mean that not all removals have the same result.
Professional laundry services, such as Love2Laundry, offer peace of mind that blood stains can be treated and removed without any lasting damage. An online laundry service will be able to use a range of professional methods, including dry cleaning, to treat the stain at its deepest level. As well as stain removal being a benefit of an online laundry service, other bonuses include specific treatments based on materials and the speed of clean.
Tips For Dealing With Blood On Bedsheets
Never soak the stain in warm or hot water. This will cause the area to dry completely, resulting in a very embedded issue.
Treat the area as quickly as possible. Even if you use a professional laundry service, soaking a fresh blood stain in cold water to remove most of the residue is a good idea.
Always use a mattress protector; even though removing blood from a mattress is possible, it is not always easy.
Always read the care label. As with any other form of washing, stain removal needs to be done with the items' care instructions having been considered.
Try to use bedding that is easy to wash, such as brushed cotton. This will just mean that should an issue arise, the items can be treated much more easily.
Using light-coloured sheets is good as the stains show up easily. Although dark bedding may give the illusion that it's clean, bacteria could be building up without you knowing.
Always thoroughly wash the bedding on medium heat once the stain is removed. This will help restore the material to its intended condition by ensuring the fabrics fibres are sitting correctly.
Don't use products such as bleach unless you know exactly how they will react with the stain and sheets in question. Yes, you could remove the stain, but also the design and colour of your bedding at the same time!
Can Love2Laundry Remove Blood From Sheets?
Yes, we can! If you are wondering whether there is a laundry app to treat blood-stained sheets and others to remove marks, look no further than Love2Laundry. Our laundry services offer the ideal solution for blood stains for several reasons. Firstly, we use state-of-the-art cleaning solutions, machines and techniques to ensure that stains do not linger on. Additionally, our team of experts has plenty of experience removing blood stains, meaning they are not a match for our skills.
We can also offer pre-treatment support should you have booked a laundry collection service but are worried about a fresh stain. Using a mix of traditional laundry washing and dry cleaning, we can eliminate stains and odours, returning items to a state that is as good as new.
Click the link to learn how much our laundry service is in London and other areas across the UK. Contact our team today if you have any questions about removing stains and caring for your bedding.
The next time you experience a blood stain on your bedding, think of Love2Laundry as we can get that mark removed as quickly as it becomes an issue.